Our approach to strategic sourcing integrates the business needs of your organization, markets, customers, and suppliers.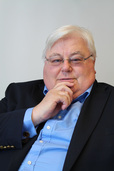 John Terry, Covering Europe

John covers the Europe region and has more than 40 years experience in electronics and working internationally. His broad expertise spans Global Sourcing, New Business Development, Sales and Marketing. He worked for Parker Hannifin Corporation's, Chomerics Europe Division for 11 years in a variety of roles with increasing responsibility. From UK Sales Engineer, through Regional Sales Manager for Southern Europe, Regional Sales Manager Scandinavia, Distribution Manager Europe to Global Sourcing Business Manager Europe, John was a key driver of growth for the sales and sourcing of Chomerics products throughout the territory.

John moved on to become the Managing Director for Hitek Electronic Materials Ltd.. During his 13 years of dynamic leadership John developed the company from a small, low profile electronics materials stocking distributor to the only UK Company qualified to supply fully qualified Mil-DTL86528 specified material to the UK Ministry of Defence and the Prime and Tier 1 and 2 contractors. He built a world class team of highly capable personnel with the highest standards of quality and on-time delivery. During his tenure, Hitek won the Kimberley Clarke Innovation Award and the Forrestor Boyd Business Excellence Awards in 2011 followed by winning the NDI (Northern Defence Industries) Business Excellence Award 2013 and achieving SC21 (Supply Chain 21st Century) Bronze Award, one of only around 75 companies in the UK Defence industry to achieve that.

John is a technical expert on Wind Enenergy, Thermal Management, EMC Shileding, Microwave, Radar Absorbing Materials, Corrosion Control, Military systems and technologies. He is a member of the Institute of Directors and the IEEE.




---

Perri Levy

Perri has extensive experience as a senior materials professional including leadership in all aspects of supply chain: new product introduction, sourcing, buying, negotiating as well as materials and factory planning. She has worked in a global manufacturing environment at Brooks Automation for more than 15 years with responsibility for purchasing and training at their Chelmsford and Mexico Facilities.

Her strengths include sourcing and buying custom mechanical components, sheet metal, packaging, cables and electromechanical assemblies. Her capabilities include kanban program implementation, integrated supply program implementation, project management, and developing supplier relationships, root cause analysis and reduction of material shortages. Perri brings to the team buying experience in all commodity areas including electro-mechanical components, commercial components, PC boards, electronics, sheet metal, packaging, MRO, fasteners, and office supplies.

Perri is a graduate of Northeastern University with a degree in Business Management, Magne Cum Laude.

---
Associated Consultants:



Michael Langlois

Michael brings to the team expertise in Material Resource Planning, Inventory Management, and Purchasing Systems. He retired in 2013 from Atronix, Inc. of Billerica, MA where he was a senior buyer for 17 years. He was responsible for buying custom engineered mechanical and electronic parts from world-wide sources. He trained and mentored his successors who were stationed in both Billerica and Atronix's Mexico location. He was also involved in qualifying new suppliers and served as department liaison and internal auditor for the company's ISO 9001:2008 team.

Prior to Atronix he was a Senior Buyer for 6 years at Mod-Tap, Harvard, MA where he was responsible for sourcing and buying custom plastic injection molded and electronic parts from wide-world sources. During his time there he traveled on business to Taiwan and Japan where he gained an appreciation of those countries' resources and capabilities. He also had oversight responsibility for the Material Control, Shipping and Stockroom functions of this OEM company. He began his manufacturing career at M/A-Com, Burlington, MA where he worked for six years as a Material Control Manager establishing a new receiving operation. He was also co-director and facilitator for the Philip Crosby Quality Management System.

Before entering the field of Strategic Sourcing and Purchasing Michael was a public school teacher for twelve years in Wellesley, MA. He holds a BA from Merrimack College and an MA from the University of Maine at Orono, both in French Langauge Studies.
---